The Simple Truth of Quartz Countertops
Quartz Countertops are here to stay. In fact, their popularity is growing, year after year. Developed over 60 years ago, this engineered (or man-made) stone has gone through quite the alterations, both visually & structurally. Today's Quartz offer a wide array of patterns, colors and sizes, with similar physical properties among reputable brand/manufacturers. When it comes to choosing a material for your kitchen or bathroom countertops, Quartz is a popular choice for many homeowners. Here, we'll take a closer look at what Quartz Countertops are, how they're made, how they compare to other countertop materials, and the benefits of choosing quartz countertops.
What are Quartz Countertops?
Quartz countertops are engineered stone surfaces made from a combination of natural quartz stone powder (one of the hardest minerals on Earth) and resins (which act as a binder) that are heated and compressed to form tiles & large format slabs. This mix creates a highly durable, non-porous, and low-maintenance countertop material that is perfect for both residential and commercial applications. With a wide variety of colors and patterns available, quartz countertops can be customized to suit any design style. The standard size for Quartz Countertop (large format) slabs are 126″ long, by 63″ wide, with a thickness of 3cm (1.1811″)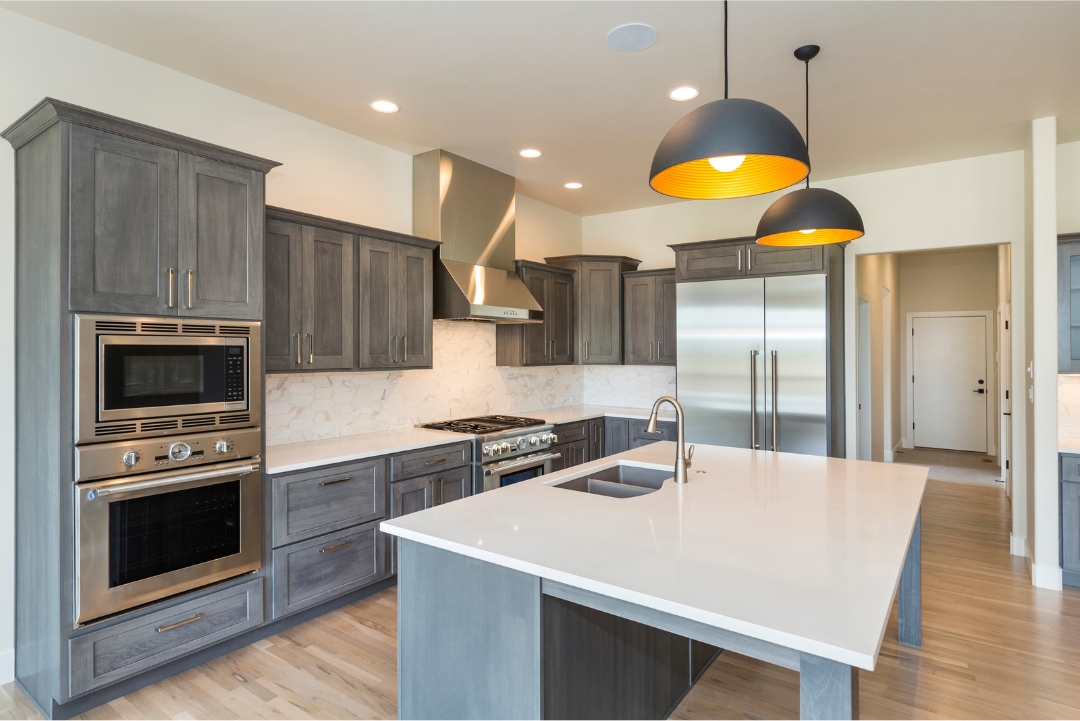 Use & History of Quartz Countertops
Quartz has been used as a decorative and functional material for thousands of years, but it wasn't until the 1960s that the first engineered quartz countertops were created. Since then, they have gained popularity due to their attractive appearance, durability, and ease of maintenance. Today, quartz countertops can be found in kitchens, bathrooms, and commercial spaces, offering an ideal surface for food preparation, dining, and other everyday activities.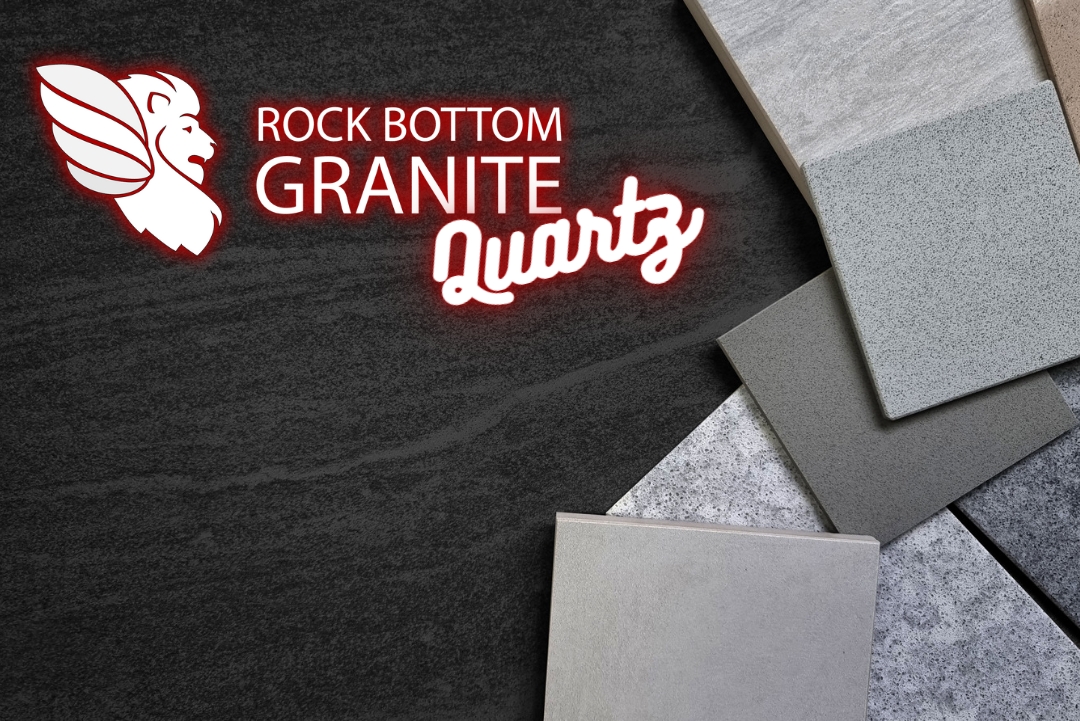 Physical Attributes of Quartz Countertops
Quartz Countertops are a man-made stone. The resulting powder & resin combination make it (structurally) strong & tight. This enables the following benefits:
Stain Resistant
Scratch Resistant
Bacteria Resistant
Crack Resistant
Chip Resistant
Acid Resistant
Care and Maintenance
Proper care and maintenance of your quartz countertops can help ensure their longevity and beauty. Here are some tips to keep in mind:
Cleaning: Quartz countertops are relatively easy to clean. Simply wipe down the surface with a soft cloth and mild soap and water. Avoid using abrasive or acidic cleaners, as they can scratch the surface and damage the finish.
Stains: If you spill something on your quartz countertop, clean it up as soon as possible. Quartz is non-porous, so it won't stain easily. However, certain substances like wine, coffee, and juice can still leave marks if left on the surface for too long.
Avoid heat: Quartz countertops are heat-resistant, but they can still be damaged by extreme temperatures. Avoid placing hot pots and pans directly on the surface, and use trivets or heat pads instead.
Scratches: While quartz is relatively scratch-resistant, it's not completely scratch-proof. To avoid scratches, use a cutting board when preparing food and avoid using knives directly on the surface.
Sealants: Unlike natural stone countertops, Quartz is non-porous. This means many industry professionals will say that Quartz does not need to be sealed (most manufacturers will seal the slabs before leaving the production line, anyways.) Rock Bottom Granite suggests you seal every luxury stone surface, including Quartz Countertops. We suggest you contact Perma-treat for all your Idaho stone countertop sealing needs!
By following these tips, you can help keep your quartz countertops looking beautiful for years to come.
Cost of Quartz Countertops
The cost of quartz countertops can vary based on factors such as the quality of the quartz, the complexity of the design, and the brand. In general, quartz countertops are considered a mid-range to high-end option, with prices typically ranging from $65 to $155 per square foot, including installation. The large variation in price is often due to the material costs: 'premium' brands are able to sell their Quartz for a 'premium' price. Although quartz countertops may have a higher upfront cost than some other materials, their durability and low-maintenance nature can make them a cost-effective choice in the long run.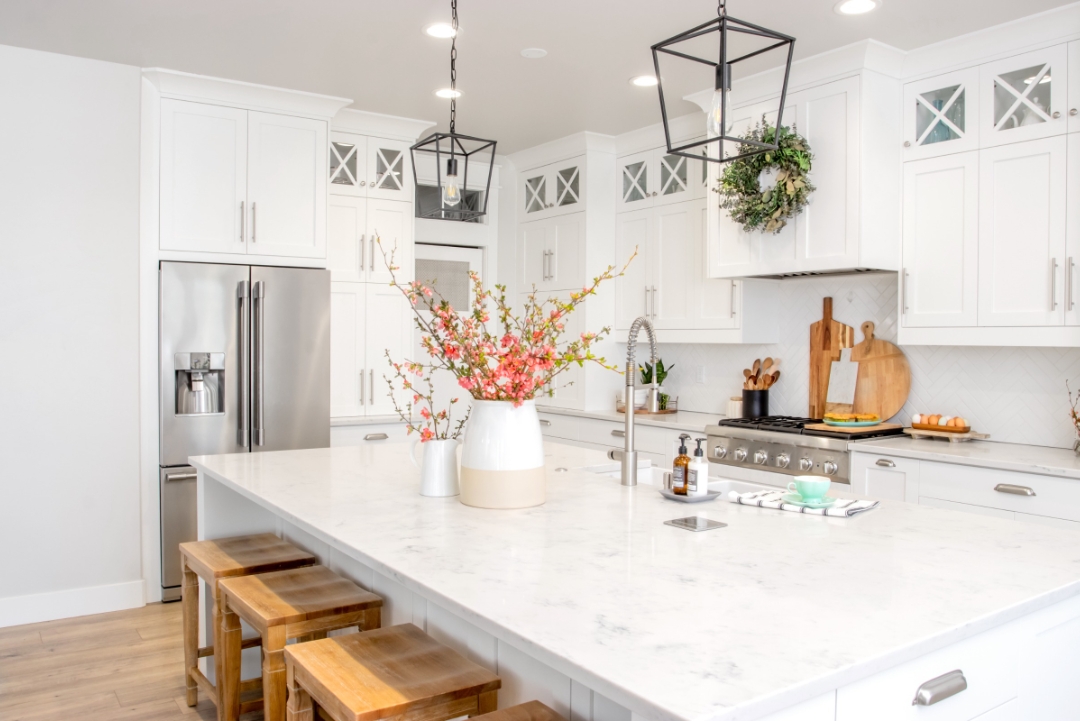 Availability of Quartz Countertops: Our Own Brand of Countertops vs. Special Order Brands

At Rock Bottom Granite, we offer a wide selection of quartz countertops from well-known brands, such as:
We also offer our own exclusive line of Rock Bottom Quartz Countertops. Our in-house brand provides the same exceptional quality and visual appeal as other popular brands, but at a much more affordable and competitive price point. Whether you're looking for a special order option or a countertop from our own brand, our knowledgeable team is here to help you find the perfect quartz surface for your home.
Quartz Countertop Testimonials
At Rock Bottom Granite, we take great pride in offering our customers an exclusive line of high-quality quartz countertops. With our own brand of quartz, we have carefully curated a stunning collection of colors and patterns that are ready to find their new home in your kitchen or bathroom. Our customers are captivated by the exceptional beauty and craftsmanship of our quartz countertops, as well as the wide range of options available to suit their unique style and design preferences.
"We used Rock Bottom Granite for a quartz countertop installation in a powder room. We had an excellent experience! I received quotes from a total of 5 stone countertop suppliers in Boise and Rock Bottom gave me the best price, service, and quality. They had a great selection to choose from and were very helpful. The installation went smoothly as well. Will definitely come back to this company in the future."
Rock Bottom Quartz
At Rock Bottom Granite, we offer a wide selection of quartz countertops from well-known brands, in addition to our own exclusive line of Rock Bottom Quartz Countertops. Our own brand provides high-quality quartz surfaces that combine exceptional beauty and craftsmanship at a more affordable price point.
Whether you choose a special order brand or our in-house quartz, our knowledgeable team is ready to assist you in finding the perfect quartz countertop for your home. Explore our live inventory and quartz catalog to see the wide range of options available. At Rock Bottom Granite, we are dedicated to helping you create a stunning and functional space with our quartz countertops.
Want to see what we have in-stock, RIGHT NOW? View our Live Inventory below!
Want to see our entire line of Quartz Slabs? View our Quartz Catalog below!
Request a Free Estimate Below